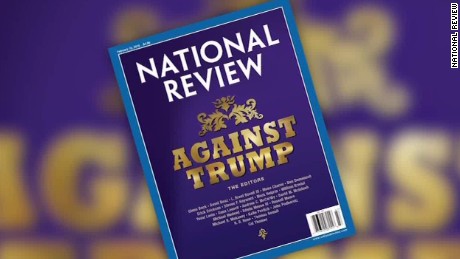 Late yesterday evening, The National Review, that outlet of conservatism founded by one of the giants of the ideology, William F. Buckley, stood athwart history and yelled "Stop!"
Gathering a respectable cadre of conservative voices — from the hinterlands of the once proud Tea Party to the deep middle of the establishment — these writers and thinkers banded together to offer a few paragraphs each on the danger of Trump as a charlatan, or a know-nothing, or a bully, or a creep, or simply a blowhard.
Rather than try to deconstruct what they said and find a cohesive theme beyond simply that Trump is no conservative and to allow him to top the ticket would be disastrous for the GOP and likely hand Hillary the presidency, I'll simply encourage you to take the time to read each opinion and think about it.
For me, the issue regarding Trump is a very simple one. He has no principles. He is the consummate businessman and is therefore willing to negotiate his core beliefs to close the deal. Perhaps some may see this as a quality they admire. But the truth is that is exactly what we've had in office these last eight years and we are worse off for it. And it should come as no surprise that Donald Trump — a man who has given a great deal of lip-service and financial support to those who have ascended on the progressive left — should resemble them.
In any event, please, with a seriousness the situation demands, I urge you to read the entire piece. Break it up into segements. Read a few paragraphs, put it down, and come back to it later if you must. But read it. All of it. And then decide if you trust the orange-haired man who may not have even the first clue what a conservative principle actually is.
I leave you with what I consider the most important question, from the brilliant Thomas Sowell:
In a country with more than 300 million people, it is remarkable how obsessed the media have become with just one—Donald Trump. What is even more remarkable is that, after seven years of repeated disasters, both domestically and internationally, under a glib egomaniac in the White House, so many potential voters are turning to another glib egomaniac to be his successor.

No doubt much of the stampede of Republican voters toward Mr. Trump is based on their disgust with the Republican establishment. It is easy to understand why there would be pent-up resentments among Republican voters. But are elections held for the purpose of venting emotions?
P.S.: Here's how you know they are on to something. The entertainment wing of the very progressive left has jumped on the bandwagon to try to wrest the effort away from conservatives and make it their own. Generally, an attempt to steal and control the narrative indicates a panic.
What we're following: Celebrities join anti-Trump campaign https://t.co/WJbW9PoXwg pic.twitter.com/R7LDHKzrx6

— National Journal (@nationaljournal) January 22, 2016